After+
Entre hier et aujourd'hui comment construire ensemble des lendemains meilleurs ?
De surprise en méprise, la crise sanitaire nous a heurtés, bousculés, abîmés…. Elle nous interpelle sur notre relation au monde, aux autres, aux nôtres.
Cet atelier collaboratif connecté, proposé par le groupe M@d'in Germe, est une invitation à passer de l'idée à l'action et à imprimer une visualisation positive du monde que nous souhaitons construire et vivre ensemble demain.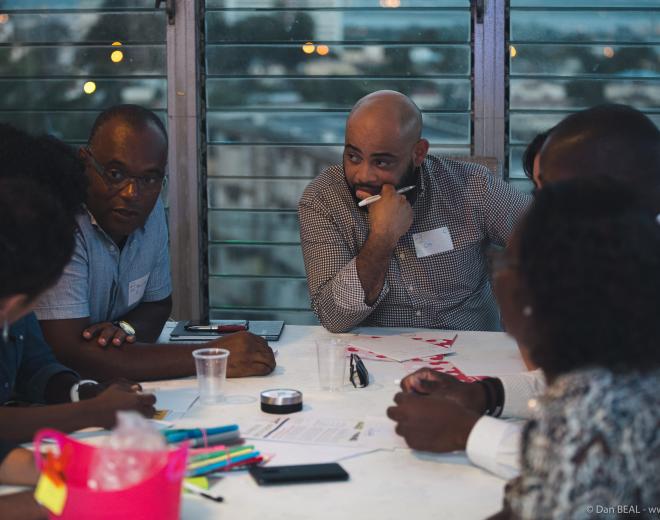 Infos essentielles
Date & Lieu
Rendez-vous le vendredi 15 mai 2020 de 17h00 à 18h30.
L'événement se déroulera en distanciel.
Public
Cet événement est accessible aux adhérents de l'association GERME.
Thématique
Germe+ et le groupe de Martinique M@d'in Germe vous invite à un atelier collaboratif connecté de votre canapé. 
Il vous faudra pour cet atelier : des feutres de couleur, feuilles blanches et post-it.
Le programme
Titre

Accueil à partir de 17h00
Texte
L'événement commence à 17h00 avec l'accueil des participants.
Titre

17h10, début de l'événement
Texte
Démarrage de l'atelier avec le groupe M@d'in Germe sur la thématique de l'événement.
Titre

Clôture de l'événement à partir de 18h30
Texte
Séquences de questions/réponses pour ceux qui souhaiteraient aller plus loin.
>
Executives and managers, become the leaders of collective intelligence in your organisations and the actors of change in managerial practices that the world needs. Germe works for this humanistic and positive transformation of the managerial world by producing a cross offer: training cycles, learning events and innovative tools. Our activities are deployed and fertilised to provide you with an experience that is ahead of its time.