Our pedagogic approach
to management Training
Our approach is based on 5 key points:
perennial groups in which a culture necessary for collective learning develops.
group dynamics supported by professional facilitators.
contributions by experts identified by GERME.
training and ownership workshops to consolidate learnings and experiences.
training courses co-constructed by participating managers based on their managerial experience.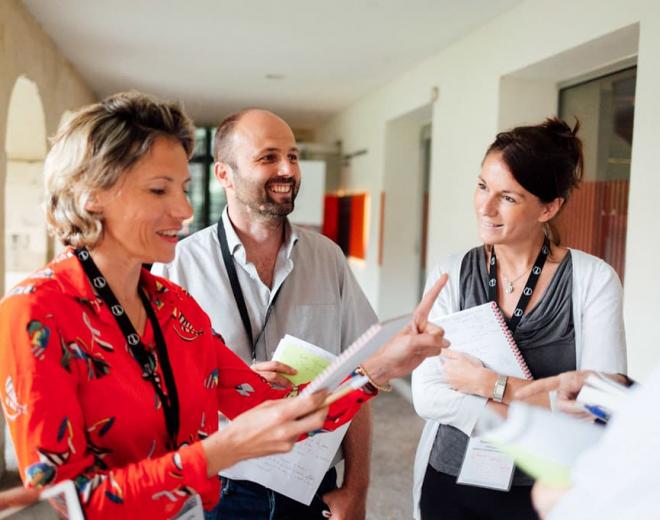 The group, the base of pedagogical success
Our groups of professionals from different types of jobs and companies offer a wide diversity and experience in management.
Each group writes its learning programme based on their company's reality and challenges in professional managerial world. The experts contributions and role-playing exercises are based on the participants' real-life situations and give the whole group an experience in advance. Professional co-development methods are widely used by our facilitators who are trained within the network.
Beyond these pedagogical virtues, the exchange is the base of an authentic network's life, a mutual aid and the source of a permanent progress.
Co-learning to grow-up together
Humility, trust and caring encourage "knowing how to become together", beyond differences in experience and functions. Through these values, GERME acts on the growth of the individual, the team and the company.
The 4 dimensions of managerial transformation
In order to be long-term, change must take place at every level of the manager's daily interaction His/her: 
own development
team
company
opening to the world
Our formats: long-term participative training courses
In order to build skills that ancrage part of everyday life, 3 conditions must be met: time, regular training and reflexion on one's learning experience.
Since 1998, we have been experimenting the virtues of regularity and durability to enable the acquisition of long term skills. This gives each individual and the group time to reflect on their learning.
Days with experts, training and reflection workshops with peers where feedback can benefit everyone and issues can be clarified by all. Pedagogical courses that facilitate exchange, feedback and fast implementation.
Managerial and collaborative innovation at the heart of our courses
To develop new methods, Germe Explore identifies, experiments and designs collective learning from the network and from the sharing with other organizations internationally. Participatory managerial innovation is shared in different forms at our learning events and in our publications. Moments of sharing to shape the network and progress.
This way, in a perpetually changing economic and social environment, the GERME manager evolves with the support of his group and through the dynamics of a learning ecosystem. He/she acquires managerial skills that can be immediately transposed to the company and is enriched by experienced innovative practices and participatory innovations throughout events from which he/she can attend thanks to his membership.